Eco Schools
"It's good to be in the Eco-Team because it's good to help wildlife and nature."
Eco Schools
"It's important because we need to look after the environment, but lots of people aren't."
"Our planet deserves better!"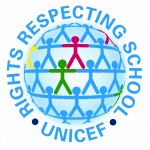 Article 29
Your education should help you learn to live peacefully, respect other people, and protect the environment
What are Eco-Schools?
Eco-Schools is a global programme engaging 19.5 million children across 67 countries, making it the largest educational programme on the planet.
For over 25 years Eco-Schools has been empowering children to drive change and improve their environmental awareness through the simple Seven-Step framework in order to achieve the international Eco-Schools Green Flag.
Eco-Schools develops pupils' skills, raises environmental awareness, improves the school environment and creates financial savings for schools as well as a whole host of other benefits.